Comrades To Stand With
Modi's visits to Maldives and Sri Lanka underscore the primacy of neighbouring countries in our foreign policy.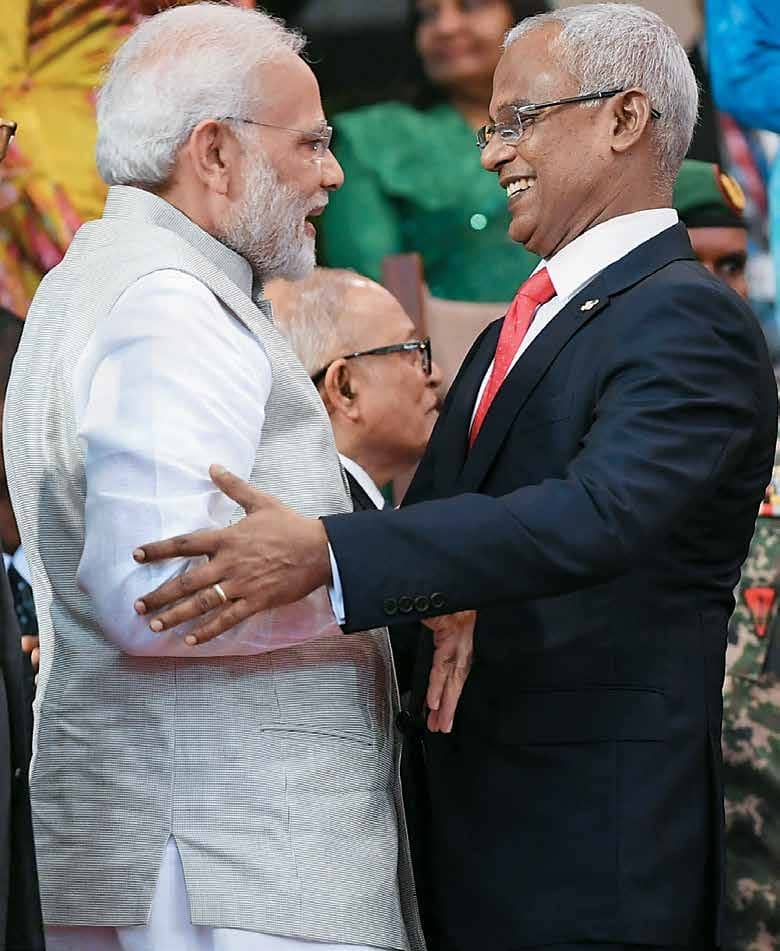 The first visit by a newly elected Indian prime minister to a country has traditionally been New Delhi's way to send out a strong diplomatic signal not only to the host, but also to other observers in the neighbourhood.
Prime Minister Narendra Modi, who has a knack of doing things differently, has chosen two countries, instead of one, as maiden destinations of his second term. In a back-to-back visit, he will be in Maldives and Sri Lanka from June 8 and 9, to emphatically underline the importance that New Delhi accords to its relations with the two island nations.
In a way, Modi is carrying on from where he left off during his first term. Modi had begun his 2014 tenure with an emphasis on India's immediate neighbours, inviting leaders from South Asia for his inaugural ceremony. After returning to power last month with a massive mandate, Modi continued with that, inviting leaders of the BIMSTEC (Bay of Bengal Initiative for Multi-sectoral Technical and Economic Cooperation) grouping for his second inaugural ceremony on May 30. To reiterate, by deciding on Maldives and Sri Lanka as his first foreign tour, Modi has stressed yet again that India's immediate neighbourhood will continue to enjoy top priority.
That Maldives could be Modi's choice as his first foreign destination if he were to return to power was on the cards. The inclusion of Sri Lanka, however, seems a surprise. Especially since Sri Lankan Pre si dent Maithripala Sirisena was among the invited guests from the neighbourhood at Modi's inauguration.
Earlier, sources from South Block seemed to indicate that the newly-elected premier would avoid a visit to Colombo until the resolution of the months-long political churning involving major players. But clearly, it seems PM Modi insisted on it, especially at a time when Sri Lanka is still trying to find its political equilibrium in the wake of the ghastly Easter Sunday bombings that killed and wounded several hundred people. It is Modi's way of conveying to Sri Lankans that India stands beside them at their hour of crisis and will continue to extend support in their fight against terrorism.
Interestingly, both Maldives and Sri Lanka have, in the recent past, faced a debt-trap as an offshoot of massive Chinese investments. Whether or not China is named during the Indian PM's impending discussions with leaders in Male and Colombo remains a matter of speculation. But both island nations could well seek and get financial assistance from New Delhi to tide over their financial crises.
Maldives, the smallest among the South Asian nations—and strategically located on the Indian Ocean—is extremely important for India and other countries. As important sea lanes of the Indo-Pacific pass through its waters, major global players have expressed interest in recent years over investing in the country.
INDIAN policy planners feel that the small window of opportunity that has opened in Maldives since last year's presidential elections should be taken advantage of. "Choosing a country as the first foreign visit by a new prime minister helps in conveying to the host how important it is in the visiting leader's scheme of things," says a senior Indian diplomat. "The signal goes out not only to the leadership but also the people of the country," he adds.
Though India had played a key role in supporting Mohamed Nasheed as the first democratically elected president of Maldives in 2012, its influence over the country's leadership waned in subsequent years. The pro-China regime that came afterwards ensured that Male moved away from New Delhi's sphere of influence, as a pre-requisite for a closer relationship with Beijing.
While Indian investments like GMR, which had built the country's commercial airport, suffered, Chinese business flourished under the anti-Indian policy of Maldivian president Abdulla Yameen. But Yameen's anti-democratic policies, including such ham-handed actions as locking up key members of the Opposition, and the growing financial debt to China—about US $1.5 billion, totalling 75 per cent of Maldives's foreign debt—began to change the mood.
Under pressure and scrutiny from the international community, Yameen was forced to hold a free and fair presidential election in September 2018 and lost to the united opposition candidate Ibrahim Solih.
The importance of the victory to New Delhi was evident when Prime Minister Modi became the only foreign leader to be present at Solih's inaugural ceremony in November last year. A month later, Solih came to India on his maiden foreign visit and in February, Mohamed Nasheed toured Delhi to further strengthen bilateral ties between the two sides.
Nasheed's Maldivian Democracy Party subsequently won a landslide victory in Maldives's parliamentary polls in April 2019; he is now the speaker of parliament. With both Solih and Nasheed installed in power in Maldives, they are keen to solidify India-Maldives relations. In this gladdening scenario for India, a visit by the new PM to Male became increasingly obvious and relevant.
PM Modi will also be given the rare honour of addressing the People's Majlis (Parliament) during his visit. The fact that most legislators agreed to an invitation for Modi to address them at the Majlis points to the growing consensus among most Maldivian political parties to look at India as a close ally worthy of having strong ties with.
According to an official statement of the Union ministry of external affairs, "Prime Minister Modi's forthcoming visit will provide an important occasion to review the recent developments in bilateral relations and exchange views on issues of mutual interest with the objective of further strengthening the special relationship between the two countries."
It added that the prime minister will also visit Sri Lanka on June 9 at the invitation of President Sirisena.